04.03.2023 - 11.03.2023
11am Saturday, 4th of March: Panel discussion with Michelle Vine and Leah Emery
and Book Launch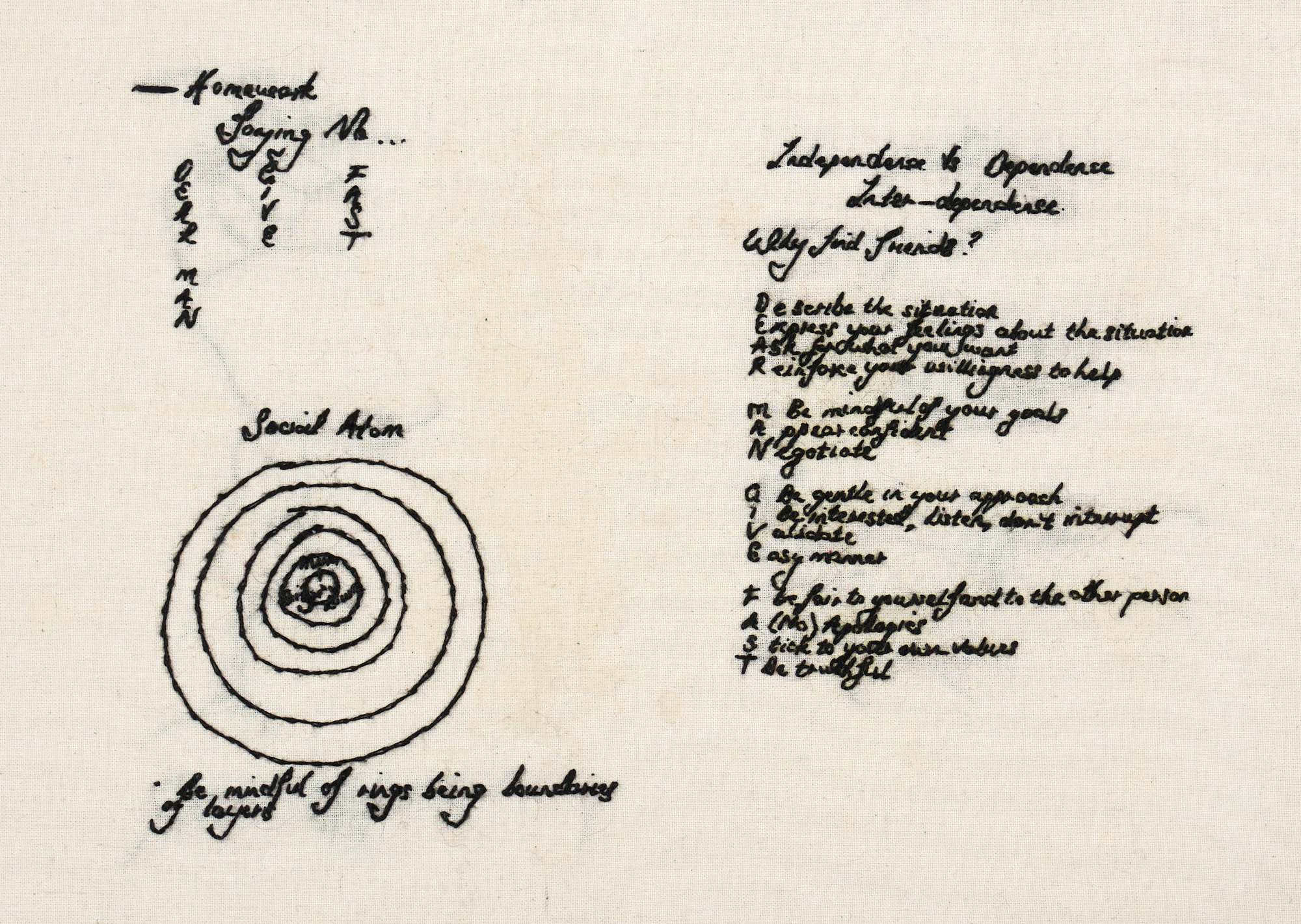 Elyse de Valle
Emotionally Overcontrolled/Undercontrolled is an exhibition of new works by Elyse de Valle. Intricate embroidered adaptations of notes from the artist's journals taken throughout Dialectical Behaviour Therapy sessions, articulate painful emotions, urges and symptoms. They are stitched into fabric as words and physical traces of process.
This exhibition is accompanied by an Artist Book available here in hardcover, paperback and ebook editions.
Download the Artist Statement and room sheet here.
Opening Event 11am, Saturday 4th of March
Discussion with Michelle Vine and Leah Emery and Book Launch
To open this exhibition, local artists Michelle Vine and Leah Emery will have an open discussion exploring some of the themes in their own practice, as they connect, broadly, to the concerns of de Valle's exhibition, including self-portraiture, tactility and ritual, processes of healing and the role of art within contexts of care.
The event will also launch de Valle's artist book which documents this body of work, and its development, in detail.
Elyse de Valle is an artist and archivist who engages with materials and site to express the conceptual concerns of her art practice. De Valle's work explores little known narratives that permit her contemplation of creative labour, memory, trauma, loss and experience. It is often a pursuit to trace, re-examine and respond to social and personal history, reflecting on how memory is encoded directly and indirectly within the body and built form.
De Valle completed a Bachelor of Fine Art with First Class Honours in 2012 and a Masters of Fine Art in 2015 at Monash University. She has held solo and group shows around Australia and internationally, was awarded the 2017 Glenfiddich Artists in Residence program award for Australia/New Zealand, and has undertaken residencies in Italy and Scotland.
Artist's Acknowledgements
During the making of this exhibition, I have lived and worked on the lands of the Dja Dja Wurrung, Taungurung and Wurundjeri Woi Wurrung Peoples. On their country I have found a home that I feel safe, curious, and comfortable in. I thank, acknowledge, and pay respects to the Dja Dja Wurrung, Taungurung and Wurundjeri Woi Wurrung Peoples, the traditional owners and sovereign custodians of the land on which I work and live. I extend my respect to their Ancestors and all First Peoples and Elders past, present and future. Sovereignty has never been ceded.

This project is supported by the Queensland Government through Arts Queensland.