Corinna Berndt, Trent Crawford, Harun Farocki, Tristan Jalleh, Sara Ludy.
Curated by Kyle Weise
16.11.2019 - 30.11.2019
11am Saturday, 23rd of November @ Kuiper:
Artist Talk

with Trent Crawford

Topographic Resolutions II considers the intersection of computer graphics and landscape in a range of recent video works. The exhibition is a sequel to Topographic Resolutions I, a project organised at Screen Space in 2014, which was co-curated by Simone Hine and Kyle Weise.

Topographic Resolutions I presented a series self-contained installations of historical works, from the turn of the twenty-first century, by established international artists Nicolas Moulin, Kelly Richardson and Patricia Piccinini. A theme across the works in this first iteration, with their pensive representation of landscape, was the digital imitation, or mutation, of analogue photography. Topographic Resolutions II includes more recent works placed together in a group exhibition format. In contrast to the previous iteration, the works here, and their imagined landscapes, are more overtly concerned with the codes and materiality of their digital construction (in terms of software and hardware), rather than a formal relationship to the photographic. Yet, shared across both projects, is an appeal to landscape as an enduring metaphorical and formal reference within the context of computer-generated imagery and its distribution.

The group exhibition at Kuiper, including work by Corinna Berndt, Trent Crawford, Tristan Jalleh and Sara Ludy, will be followed by a publication that includes and connects both iterations of Topographic Resolutions. The exhibition at Kuiper coincides with SIGGRAPH Asia 2019 occurring in Brisbane, the first time this event, dedicated in part to computer graphics, has been hosted in Australia.

Additionally, Topographic Resolutions II incorporated a screening of Parallel I-IV (2012-2014) by Harun Farocki. The screening was accompanied by a panel discussion with artists Kathryn Brimblecombe-Fox and Baden Pailthorpe, responding to Farocki's work and the broader themes of the Topographic Resolutions II exhibition. This was presented at the Institute of Modern Art (IMA) on the 14th of November, 2019.

A recording of the panel discussion is available via the IMA, or direclty on Soundcloud.

Corinna Berndt is a Melbourne-based visual artist and current PhD candidate at the University of Melbourne, Australia. Working predominantly with digital media, her practice investigates the tension between corporeal and digital experiences, exploring moments of convergence that occur between objects and bodies and between physical and intangible materials. Her current research focuses on cyber myths of the 1990s and the continuing impact historical techno-imaginaries might produce in Western culture. Specifically, she examines how these techno imaginaries might still parallel and construct contemporary hopes and fears concerning communication, technology, subjectivity and the limits of the body in the 21st century.

Trent Crawford disassembles, restructures and repurposes new media technology to consider the physicality of the digital image, its construction and fragmentation inseparable from its corporal realisation. In 2017 he graduated with a Bachelor of Fine Arts (Honours) from the Victorian College of Art, and among numerous awards, was the recipient of the Keith and Elisabeth Murdoch Travelling Fellowship. Recent solo exhibitions include Kings ARI, Blindside, C3 and Testing Grounds (Melbourne), Aoto Studio (Beijing) and ARTnSHELTER (Tokyo).

Harun Farocki (1944-2014) was born in German-annexed Czechoslovakia. From 1966 to 1968 he attended the Deutsche Film- und Fernsehakademie Berlin (DFFB). In addition to teaching posts in Berlin, Düsseldorf, Hamburg, Manila, Munich and Stuttgart, he was a visiting professor at the University of California, Berkeley. Farocki made close to 120 films, including feature films, essay films and documentaries. He worked in collaboration with other filmmakers as a scriptwriter, actor and producer. In 1976 he staged Heiner Müller's plays The Battle and Tractor together with Hanns Zischler in Basel, Switzerland. He wrote for numerous publications, and from 1974 to 1984 he was editor and author of the magazine Filmkritik (München). His work has shown in many national and international exhibitions and installations in galleries and museums.

Tristan Jalleh is a Chinese-Malaysian Australian video artist based in Melbourne and SE Asia. He is a member of the Sydney based QPOC art collective Club Ate, formed by Justin Shoulder and Bhenji Ra. Jalleh creates immersive virtual environments that situate everyday objects within the abstract. He uses a process that combines his own photographs with hundreds of images resourced online in order to construct virtual installations that merge architectural, cinematic and video game aesthetics into hyper-realities, with thematic interests that circulate digital cultures, including urban design and queer futurism.

Sara Ludy is an American artist working in a wide range of media including video, sound, animation, VR, AR, websites, audiovisual performance, sculpture, painting, photography, and installation. Through an interdisciplinary practice, hybrid forms emerge from the confluence of nature, architecture, abstraction, and the unconscious; reflecting an uncanny presence that questions our relationship to immateriality and space. Ludy's work has been exhibited at numerous galleries worldwide, including  the Museum of Contemporary Art Chicago; Berkeley Art Museum, California; Eyebeam Center for Art and Technology, New York; Vancouver Art Gallery; Kuenstlerhaus Bethanien, Berlin; Carroll Fletcher, London; and C-Space, Beijing.
Sara Ludy is represented by Bitforms Gallery, New York.



This project has been assisted by the Australian Government through the Australia Council for the Arts, its arts funding and advisory body.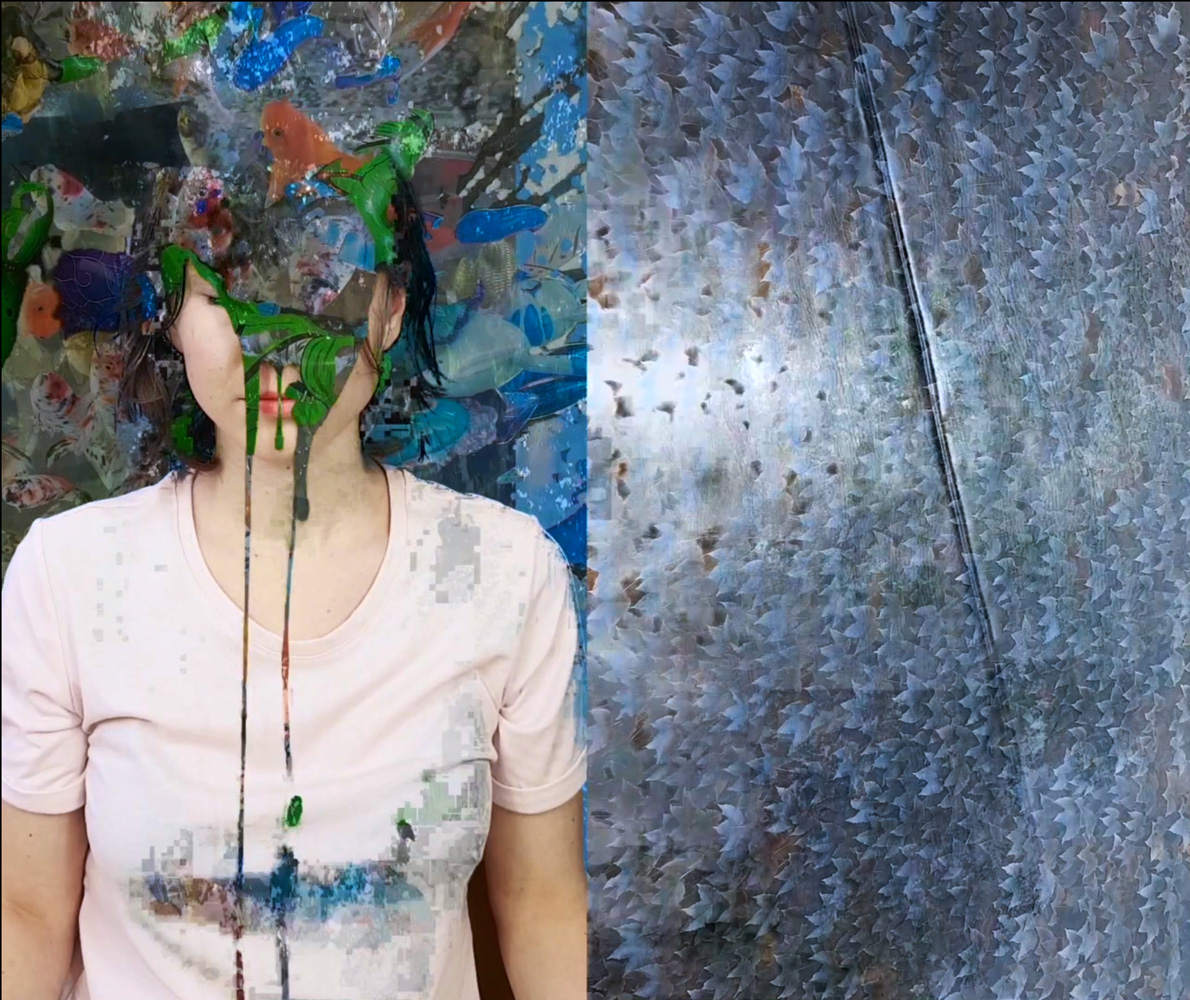 Corinna Berndt, Soft Copy II, 2017, 2-channel HD Video, Stereo Sound, 7 min. Video Still