Simone Hine · Picture
18.08.2018 · 10am - 4pm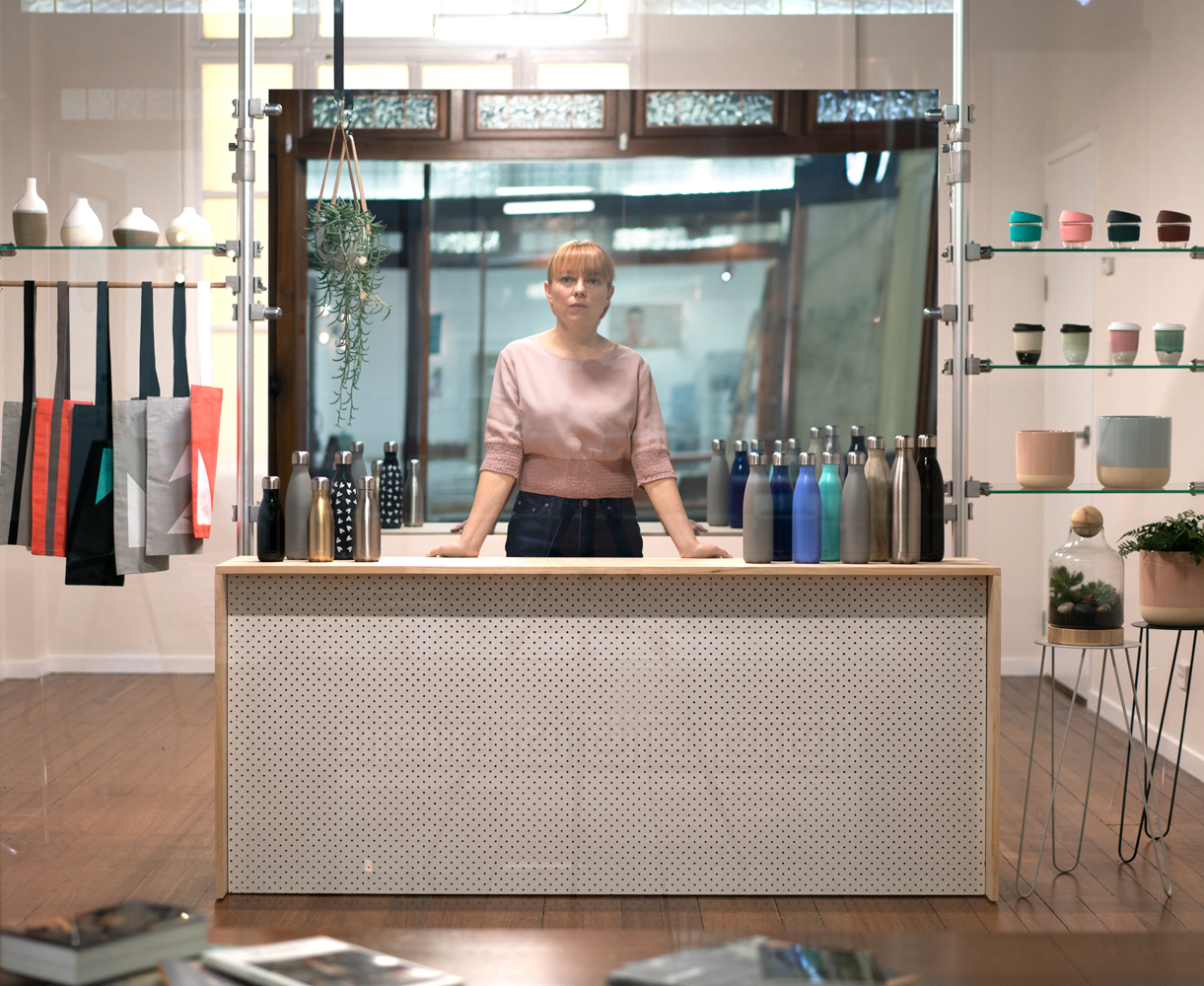 Picture, 2018
A single image documents a public intervention that took place in an arcade shopfront in the CBD of Meanjin (Brisbane), Australia, on the 18th of August 2018 from 10am – 4pm.
Édouard Manet's Bar at the Folies- Bergère (1882) and Jeff Wall's Picture for Women (1979) act as precursors for this work.
Bar at the Folies- Bergère depicts a scene from a prominent 19th century Parisian music hall, part of a culture that arose as a by-product of industrialisation. Picture re-imagines this scene in the context of late-capitalism. The trapeze is replaced by a hanging pot-plant, bottles of alcohol replaced by reusable coffee cups and green-bags. Each of the items displayed in the shop front are marketed via a discourse of environmental awareness, while simultaneously functioning as luxury commodities, an effect of the ubiquitous absorption of even the most pressing political debates of our time into modes of capital distribution. As with Bar at the Folies- Bergère, the scene presented in Picture is laden with irresolvable contradictions. 
Over the course of a common Saturday retail shift, the woman, the performer, the artist, stands posed as an object of consumption. The centrality of the female figure amongst a myriad of consumer objects refers to the composition of Bar at the Folies- Bergère. However, it is the construction of meaning through composition that Wall's Picture for Women takes as its subject, which is of most significance here. Wall uses the mirror to break the fourth wall of photographic representation. In so doing, reveals himself as photographer, exposing the power dynamic that operates in the production of any image. In contrast to Bar at the Folies- Bergère and Picture for Women, the artist and model are conflated in Picture. This is an aspect of the work's production that is made evident through the reflection, in the shop window, of the camera without an operator. Via the reflection, the camera is subtly superimposed onto the body of performer. The male author may be removed from Picture, but the mode of representation remains embedded within the conventions of feminine representations, another irresolvable contradiction at the heart of this work. Instead, the disruption occurs where the in-situ scene is turned into a living picture, halting the ordinary flow of capital through a retail shop, rendering the objects on display as part of this intervention devoid of exchange value.